How to follow-up easily your health refunds
🙁 Current situation
You just consult your doctor.
You receive a care sheet that you must complete and sign (if you have not given your health card at the end of the consultation or if the doctor does not take it)
You must send it to your general health fund - the address can be found on[ameli.fr] (https://www.ameli.fr/) - or if you are self-employed at[RAM] (https://www.laram.fr/).
You wait....
Wait a minute...
Wait until you get your money back....
You receive a notification from your mutual insurance company informing you that you have a new message to check in your customer area.
And then you forgot your password and you have to do an intellectual gymnastics to understand if you have been reimbursed 100% by the general diet and your complementary health insurance.

Photo by Brina Blum / Unsplash
Why this (long) process? Because your general health fund and RAM pay you back first.
Then, one of these two organizations notifies your health insurance (if you have one) so that it can take over and reimburse you for its share.
And from the moment your envelope has been swallowed by the Post Office, you start this (long) wait for reimbursement of your medical consultation by regularly visiting your customer account and also your health insurance company's account. Not to mention that every other time you forget the password in your customer area and have to send back a password reset request.

Photo by Jose Fontano / Unsplash
🖱 In one click
And if you knew that Cozy allows you to track the refund of your consultation of your two reimbursements in one unique place without having to connect to your customer accounts and especially without remembering a password?
How does it work?
Even in beta, I like Cozy Banks and use it most often that I thought. Moreover, it allowed me to that my general health fund had not a priori used the right reimbursement basis for my last ophthalmic consultation. Otherwise I would never have seen...
Create your Cozy space for free by visiting our site cozy.io
Connect the service Ameli and your insurance company to your Cozy in order to automatically download your health refund assets

Configure your bank account related to your health insurance
Let us guide you! By connecting your bank account, you will be able to access an overview of your banking transactions. *As your banking application you might say? *Not exactly. And even better than your banking application.
💶 The 7 differences that make (really) the difference with your banking application
Cozy Banks aggregates all your bank accounts, even from different banks (more than 30 banking institutions already available).
*What does "aggregate" mean? * Unite as a whole.
By connecting the online services you use in your daily life (your health insurance for example), you link an imported invoice automatically to a banking transaction
Cozy Banks allows you to open (yes without downloading a pdf from your customer area) your reimbursement certificate directly from the line of your health expenditure
Cozy Banks notifies you when a refund has been made (stay cool!)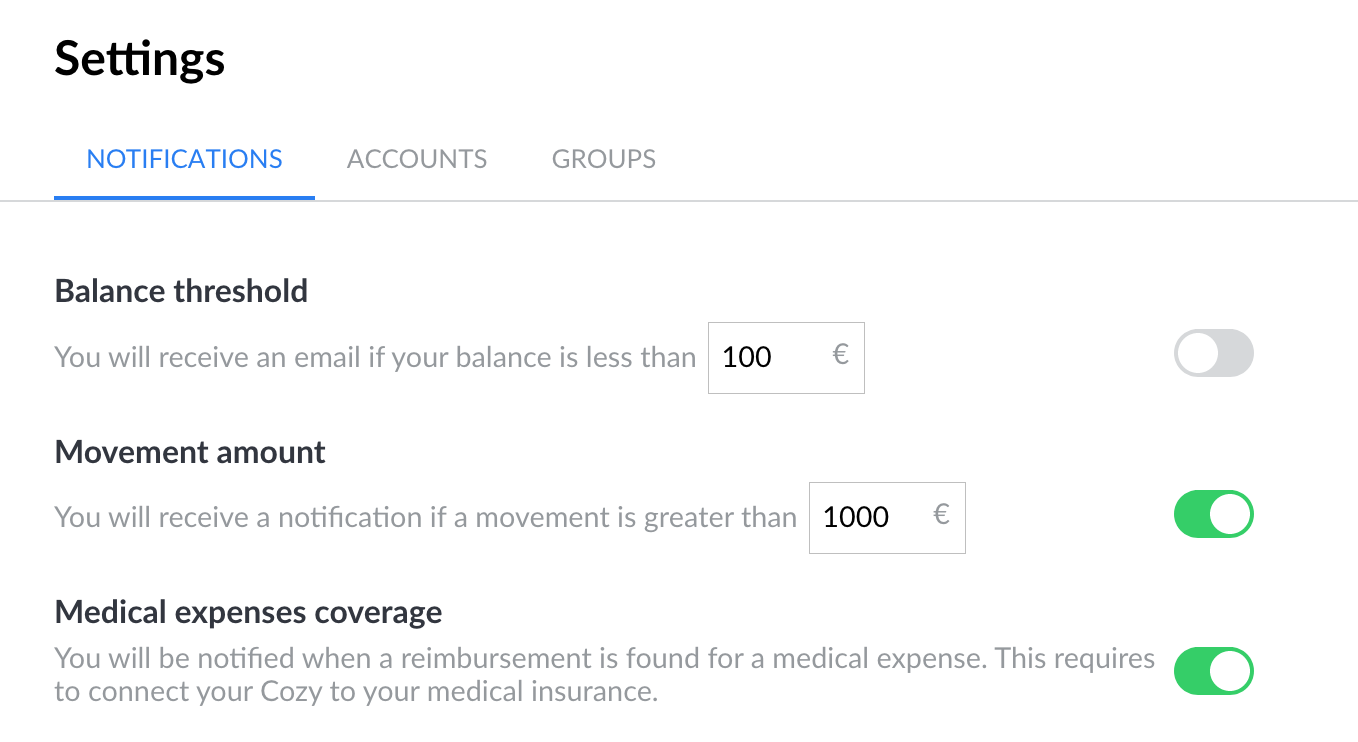 Disponible sur le web et sur votre mobile (et pour tous les OS : iOS et Android)
Every health expense is linked to the reimbursement of both services: general and complementary health insurance as if it were one.

Demo (without the demo effect)
🖌 Some words about Cozy
► Our mission: democratize the digital home by allowing everyone to be autonomous in their digital life
► How does Cozy secure all my data?
► Follow us:
Facebook: https://www.facebook.com/mycozycloud
Twitter: https://twitter.com/CozyCloud
Mastodon: https://framapiaf.org/@CozyCloud
LinkedIn: https://www.linkedin.com/company/cozy-cloud/
► Join us: https://www.meetup.com/fr-FR/Meetup-Cozy-Cloud-en-France/events/254790951/
Visit our website cozy.io in order to create your Cozy hosted in France, respectful of your privacy and free of charge up to 5 GB of storage.