2021: why you should use a password manager
Data theft is a reality. Forgetting passwords is your daily life. This guide from Cozy Pass, the French open source password manager, presents steps you can easily implement to minimize the impact of data theft and tips to keep you safe online in 2021 and beyond.
And don't forget: it's 2021, you've been using the password Mom1234 or Post-it notes for years so it's high time to change it.
You should use a password manager
We all have our own way of remembering our passwords: the same password everywhere, post-it notes, a google doc or even your year's calendar. Some use variations of the same password depending on the website, others save them on their browser. The method you have chosen may be just right for you. And changing your online habits is not always easy.
However, using a password manager such as Cozy Pass, Dashlane, LastPass, 1Password or Keepass is becoming more and more common.
Why?
The answer is simple: it's a tool that does its job perfectly.
Find out what makes Cozy Pass different from other options available on the web
While storing your passwords in your browser may seem like the easiest solution, it doesn't always offer the ability to sync your keychain to find it wherever you need it, on your phone or on the go.
The "Sign in with Gmail" option and other social network login options make you dependent on platforms that use this option to collect more and more data about your habits. Password managers are the most secure option.
Unlike other solutions, password managers automatically enter your login, personal and payment information, saving you a lot of time.
The only universal solution
At the launch of Cozy Pass, some Cozy users told us that they were already using the Apple Keychain or Chrome, and that they didn't see the need for a password manager.
When you're surfing the web, a pop-up window appears asking you to save the password, and you click yes or no. When you come back to the web later, you'll see a pop-up window asking you to save the password. When you come back to this page later, your password may be saved.
But you'll run into a problem when you try to log into an account from your iPhone while browsing the web with Safari. The passwords you saved on Chrome are then not available. Even worse, the passwords saved in Keychain may be different! You might even find yourself in a situation where you reset a password because you can't access a certain account, which makes the password registered in Chrome invalid.
This situation can drive you crazy and is not sustainable over time.
Maybe you use Chrome at home, but if your company network only allows Internet Explorer or Firefox, your passwords stay "at home".
Users of Cozy Pass can easily access all their passwords on all platforms, whether they use a PC for work, a Mac at home, an Android device or an iPhone. Cozy Pass works on all devices and all browsers. So your passwords follow you wherever you go. No black boxes. No duplicates. Only you have control over it.
What you need to remember: With our personal and professional lives becoming more and more digital, where the vast majority of people use several devices in different ecosystems, a password management solution that wants to be effective must work everywhere, which is the case of the various password managers available on the market.
Let's take a look at the differences and advantages of each one.
The different password managers
Cozy Pass is a password manager integrated to a private and secure personal cloud, Cozy. French and open source developed by Cozy Cloud, your passwords are encrypted from end to end of all data stored and hosted in France.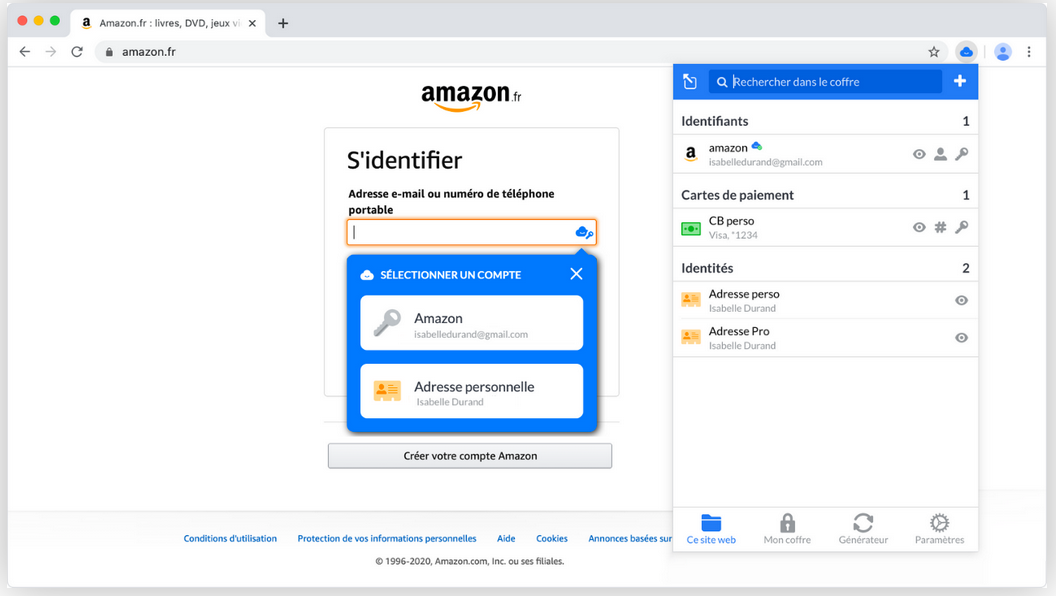 Auto-fill with Cozy Pass
it saves and fills in all your passwords in one click when you browse the Internet,

it synchronizes your passwords between your computers, browsers and phone: they are now accessible at any time and from anywhere,

it simplifies the recovery of your data within your Cozy by proposing you the brands to connect for which you already have an account,

it avoids manual handling when you change your password: the connector configured within your Cozy will immediately receive the update,

it easily imports your passwords stored in your browser or in another manager

it uses an open-source and audited protocol from Bitwarden. No black box effect!

it enters for you the right identifiers each time you browse the web and simplifies your online shopping!

last but not least, your passwords and other data are hosted on French servers.
Managing passwords is not just about saving a few of them so you don't have to type them in again. Password management is about taking back control of your digital life and therefore of your online sites. This is already the mission of Cozy, the personal cloud that integrates the Cozy Pass application.
Save time and money
Password managers allow you to access your accounts wherever you are, while ensuring that your information is secure. Last but not least, by automatically entering all your passwords, personal data and payment information on the web, this tool saves you a lot of time that you would otherwise waste filling out endless forms and searching for credentials that you forgot.
The important thing to remember is that unlike other password systems, password managers automatically enter your personal data, payment information and passwords, making it easy for you to move from one site to another.
Comparison
We won't lie to you: we just launched Cozy Pass and some features like password sharing or the web version are not yet available (but planned!). Users who want to focus on ease of use and ergonomics will turn to paid services especially when they have a professional use (sharing passwords with their team for example) and when their company offers them a solution paid in advance. The big names in this field are Dashlane, 1Password, LastPass and Keepass.
Dashlane
Dashlane is probably the most complete service. Its interface is clear and pleasant to use. It offers interesting additional features to those offered by Cozy Pass:
the possibility to store notes or attachments in a secure way (up to 1 GB of storage space)
alerts when a password can be compromised, when a site communicates about a data leak or an attack
monitoring of the dark web. Dashlane analyzes the data published on the dark web, and verifies that your accounts and passwords are not part of it
the possibility to change your password in 1 click, for the main websites
a VPN, to secure your connection, for example on public wifi
sharing passwords with other people, and the possibility to add trusted contacts to your account
several premium offers (individual, family and business)
but...hosting your data on Amazon AWS
LastPass
LastPass is a popular password manager solution.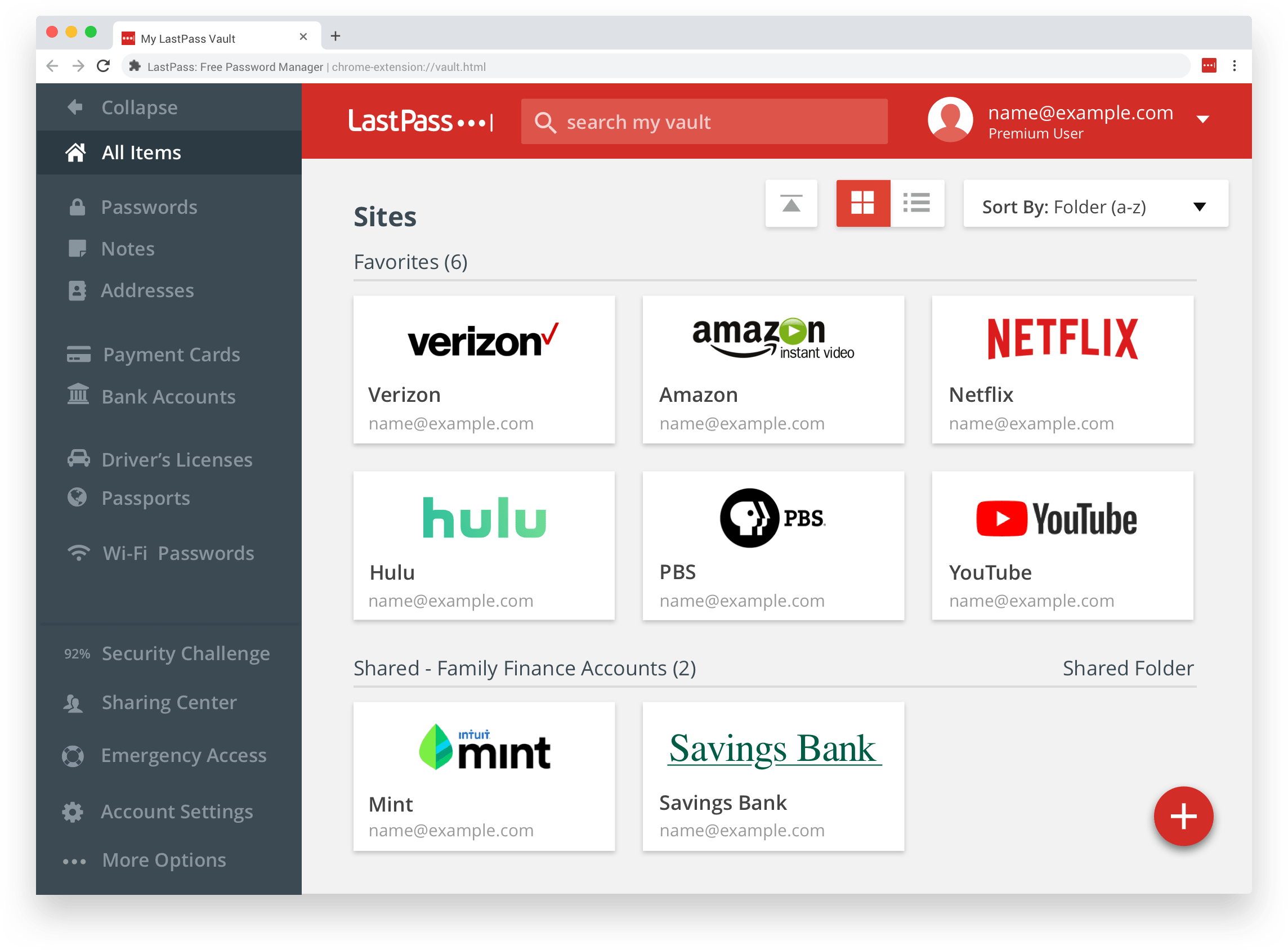 LastPass solution web interface
a modest price for most of the functions expected from a password manager whether for individuals (€2.90 per month or €3.90 per month) or for companies (from €2.90 per user/month to €7.50 per user/month) but soon LastPass will limit the number of synchronised devices (mobile OR laptops).
an extension compatible with a number of browsers: Chrome, Firefox, Safari, Opera, and Edge, as well as on smartphones with an application on iOS, Android, and even Windows Phone.
Host your data on Amazon AWS
1Password
1Password is for Mac and iPhone users.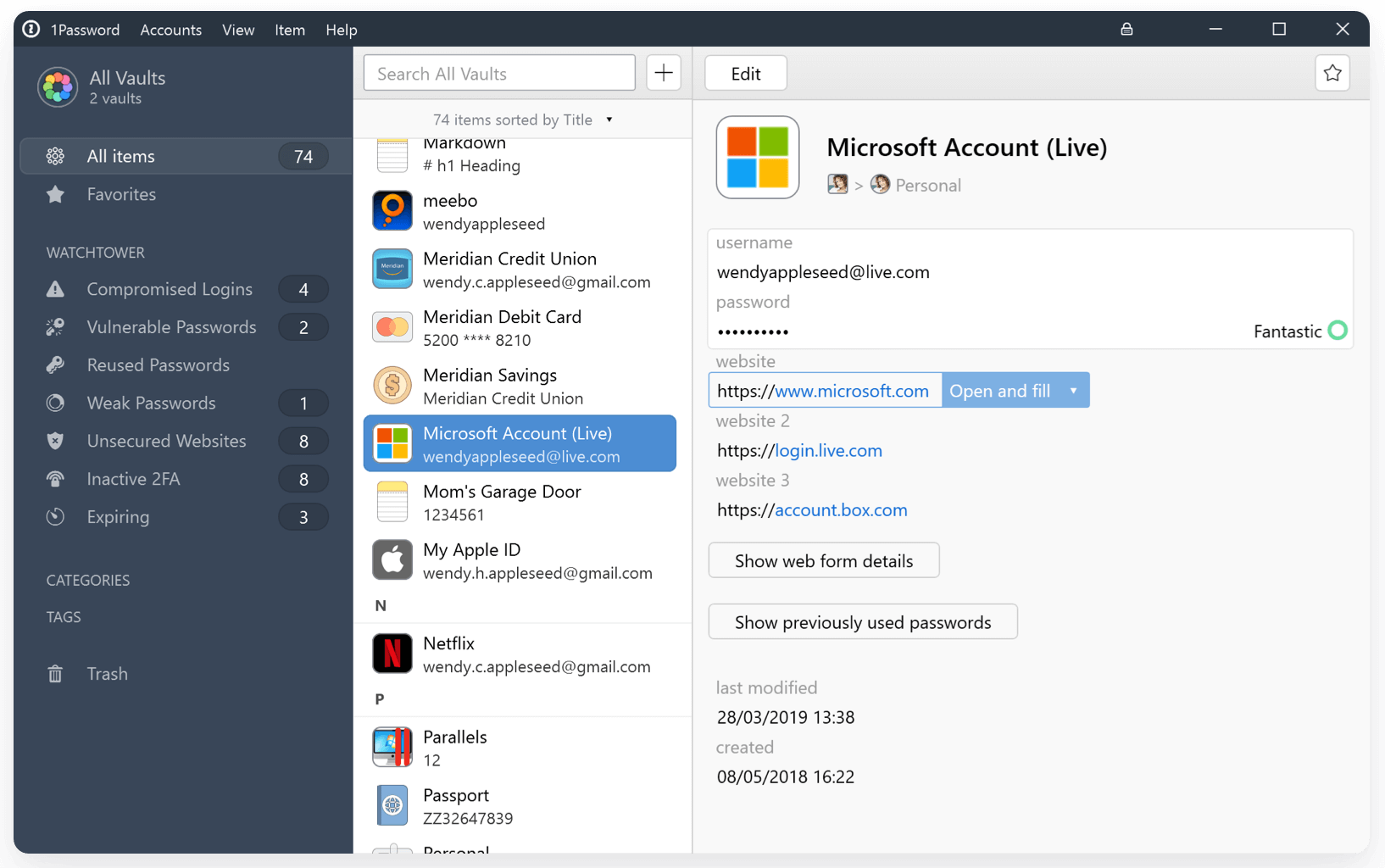 1Password solution web interface
It is possible to synchronize your passwords between your Mac and iPhone via your wifi network. The synchronization is then done on the local network, and not via the internet. For Apple users, this can be a good compromise between a Keepass and a service a little more modern and pleasant to use. While keeping control over where the data is stored.
For the rest, 1Password looks like Dashlane. With a few less features (no VPN, no darkweb monitoring).
If you travel a lot, 1Password also offers a roaming feature. You delete your sensitive data from your device while you travel. And you restore them when you arrive.
Available on Windows, Mac, Linux, and even ChromeOS for Chromebook owners.
Keepass
Keepass is a well-known password manager, free and open source.
Keepass solution web interface
Its great strength: it is known to be one of the most secure. In fact, it is the only one whose security has been audited by the ANSSI (National Agency for Information Systems Security).
Keepass is open source, which allows to audit its code. No black box effect like Cozy Pass.
Keepass allows you to keep control of where your passwords are stored... like Cozy Pass.
You know everything. Thanks for reading! I hope this article has motivated you to install a password manager (Cozy Pass of course!) and change your digital habits.
To go further
To learn more about the Cozy personal cloud and its password manager, Cozy Pass, visit our page.
Extensions for your web browser
If your are nomad style
🐙 Android
🍏 iOS